De-clutter
One of the most important changes you can make to help sell your house is to de-clutter, try to keep everything tidy and look as if the person viewing it could fill the space with their own belongings and memories. Move any bulky furniture that could be in the way and place any objects/kids' toys in a trunk.  Another tip would be to make sure you have as much natural light coming in as possible, so make sure to have those curtains and blinds open.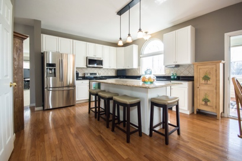 Neutral colours
When selling your house, it is important to take into account that your taste in décor may not be the same as others, so it is important to keep colours neutral. This will ensure that viewers aren't put off and also gives them the freedom to envision their own décor. Neutral colours such as cream, hessian and light grey are often the preferred choice for this. 


Deep clean
Viewings are a way to showcase your home and show off its features, so don't let the cleanliness of your home bring it down. Make sure areas such as the kitchen and bathroom are deep cleaned as these are areas of the house that can leave a bad impression If they aren't clean.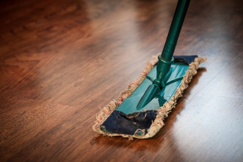 Accentuate features 

Don't forget to highlight the features of your home, for example, if you have high ceilings or exposed beams/brickwork try and draw the attention towards this, as it can often leave a lasting impression and act as a selling point. Ways of doing this are to have colours or décor that lead the viewer's eyes towards the feature. For example, neutral colours by an exposed wall/beam, eye-catching rugs and interesting furniture.  

Maintain and brush up the outside of your home.

The outside of your home and the image it portrays is just as important as the inside, this is the first impression viewers will get when seeing the property, so be sure to make it a good one. Make sure to paint and freshen up fences, front doors, windows and anything that could need a good lick of paint, Jet wash your patio/driveway, add potted plants and tidy the garden to ensure there is a nice neat balance of greenery. 


Set the scene

It's all well and good making your property look the part, but you also need to make it look like the person viewing it could see themselves living there. One way in which this can be achieved is to have the dinner table set, or the garden furniture out if the weather suitable, even brew some coffee/light a neutral candle such as fresh cotton to make it feel welcoming.